[Edit: RFC later said here that "Unfortunately, because of the nature of the "splitter plate" technology used in the current generation MDM, you can't set different acceleration rates on the sequenced drive nodes." so this whole post is moot for the moment.]
As a follow up to my earlier analysis of the Mk16 DDM flight profiles:
On DDM Flight Profiles
I crunched the numbers on 3 drive MDMs and found a surprising outcome.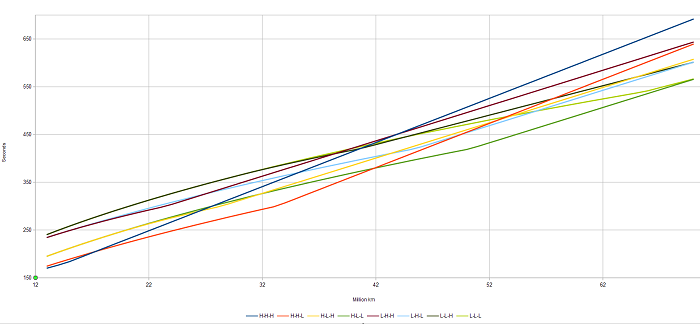 And to make the differences more visible here is it plotted on a logrithmic x-axis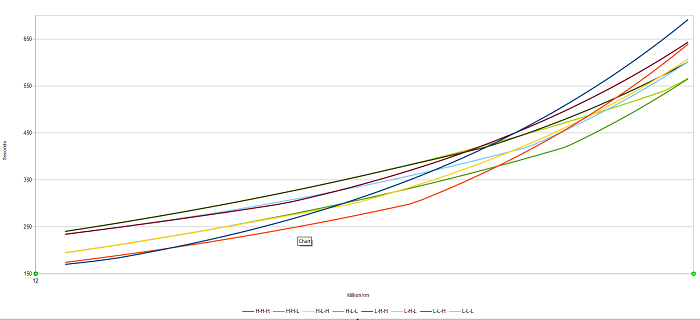 Up to 17 million km the fastest profile is all 3 drives at full power (92,000 gees for 60 seconds each), with a coast phase if necessary before the final drive.
Then up to 41 million km the fastest profile is keeping the first 2 drives at full power, but stepping the final drive down to half (low) power.
But then, surprisingly, all the way out to 70 million km the best profile is High-Low-Low (first drive at 92,000 gees for 60 seconds and the next 2 at 46,000 gees for 180 second each). Even though you have to add a ballistic phase (at ~17 million km) to get powered terminal attacks beyond 50 million km the extra velocity going into your coast still wins the race.
At 50 million km HLL is 52.4 seconds sooner than LLL, and 35.2 seconds faster than LHL (2nd best profile)
At 55 million km HLL is still 39.3 seconds ahead of LLL
At 60 million km HLL is 24.3 seconds ahead of LLL
At 65 million km HLL is 8.4 seconds ahead of LLL
And at 70 million km HLL is 0.8 seconds ahead of LLL
It's not until 71 million km (6 million beyond max powered range) than the LLL flight profile finally edges out the HLL one!
The books always seem to describe using the Low-Low-Low (all 3 drives at 46,000 gees for 180s each) even though number crunching shows that's not actually the fastest time to target at common battle ranges...
Because I was calculating for minimum time to target I always put the ballistic segment after the 2nd drive burnout (to give the highest coasting velocity). But it's not impossible that a tactical situation would cause a commander to take a much longer flight time in order to have both 2nd and 3rd drives available for terminal maneuvering.